Paint-a-piece with Amitha Verma Chalk Finish Paint Happy Hour! 11:30am
Saturday, September 9th, 17 @ 11:30 am

-

2:00 pm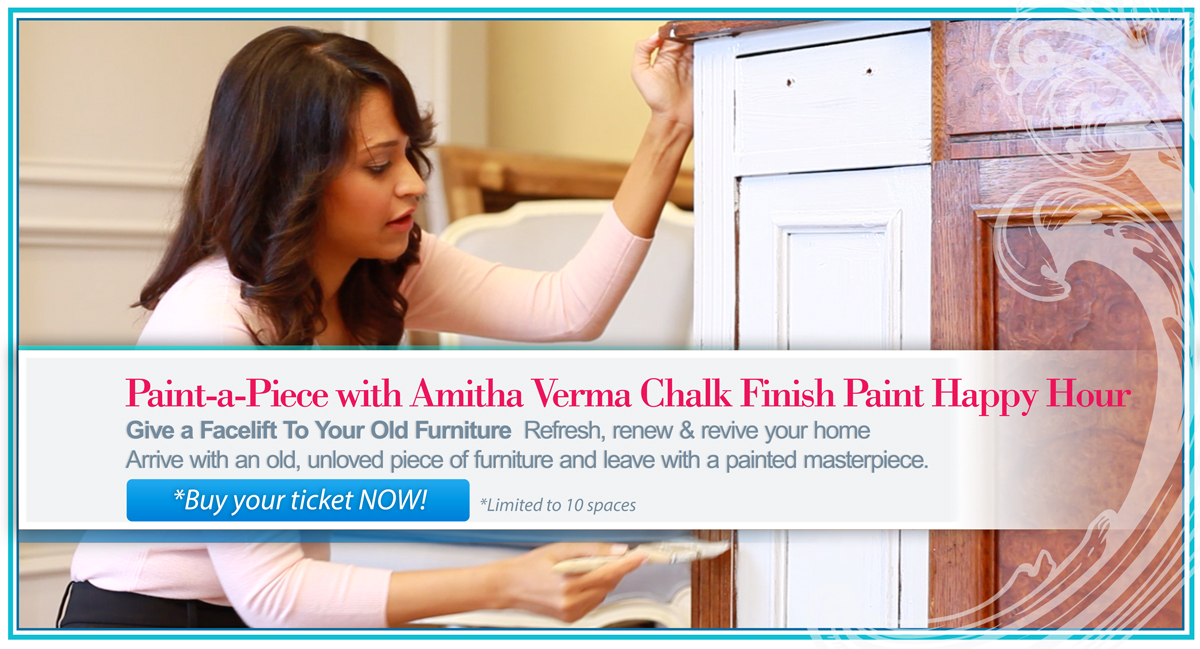 You've been wanting to refresh your furniture for a long time but you're too afraid you might mess it up.
Perhaps you haven't picked up a paint brush since grade school so transforming your furniture feels very intimidating to say the least.
What if I told you that you could now get expert guidance through the entire transformation process?
When you join our 2-hour Happy Hour workshop, you get to bring in one of the pieces you'd like to transform and get hands-on help. From painting, sealing to antiquing your piece – you will have a certified Amitha Verma teacher guiding you every step of the way to make sure you're doing it right.
Not only will your teacher help you paint the right way, but they will also be there to help you learn how to avoid costly mistakes, select the perfect color for your piece and share little-known tips and tricks so you can be sure that your piece turns out amazing!
Finally, you will never have to wonder "am I doing this right?" Because you get to arrive with an old piece of unloved furniture and leave with a finished masterpiece. But most of all, you walk out armed with the skills and confidence to conquer your next project on your own!
This is your chance to have fun with like-minded people who share your passion for painting and honor your commitment to creating the home of your dreams.
What kind of pieces should you bring in?
Your piece must be small enough that you can carry it into the workshop yourself. As a general rule of thumb, your piece should be no larger than the size of a suitcase. If you can't carry it, don't bring it.
What NOT to bring:
– armoire, buffet, dining table, bed set, etc….
What to bring:
– home decor objects such as decorative objects, candlesticks, photo frames,
– small furniture such as side chairs, small nightstands or anything that you can carry and put in a 3′ x 2′ space
Your Investment
The fee for this hands-on 2-hour workshop is $49 plus the cost of the paint you select.
Want to make this fun and exciting class into a special event for your friends? Ask us about hosting your private groups for your ladies' night out, bridal shower or creative party.
Class Location

1200 Blalock Rd. Suite 350, Houston, TX 77055
Ph:713 – 468 – 3931