FREE Workshop:
Transform Your Home Into a Designer Dream Home in
under 2 hours for less than the cost of one piece of furniture!
Yes! I can't  wait to come,
Save me a seat!
Powered by Eventbrite

Where is the Workshop:
Village Antiques. 1200 Blalock Rd. Suite 350, Houston, TX 77055
Transform Your Home, Transform Your Life …
The time has come to end house shame for good and create the home of your dreams. It doesn't have to cost thousands of dollars or take months of your valuable time. In fact, you can radically transform your home before lunch – for less than the cost of a family dinner! Keep reading and I'll show you how…
Join Thousands of Others Who Are Already Transforming Their Home With Amitha Verma Chalk Finish Paint
• You're tired of seeing dark, out of style, mismatched furniture when you look around your home.
• You find yourself giving excuses for the "unfinished" state of your space every time new guests walk through the door.
• You don't feel proud to host events in your home so you avoid it at all costs.
• And you especially can't stand that one piece hubby brought to the marriage. You can't wonder, "if only there was a way to make it fit into my design vision…"
You flirted with the idea of painting your furniture. But you never took the plunge because you were afraid you would ruin your piece. Besides, every product you looked at requires multiple coats, layers and long drying times. All of that boils down to 6-9 months on just one project! Not to mention all of the complicated techniques that only artisans master.
You wish for the luxurious designer finishes you covet in antique shops and design magazines rather than a simple, garage sale paint job.
All of that is about to change when you come behind the scenes for an up close and personal workshop with award-winning interior designer, Amitha Verma, demonstrating how to makeover old, "ugly" furniture from unwanted relic to designer using the Amitha Verma Chalk Finish Paint System.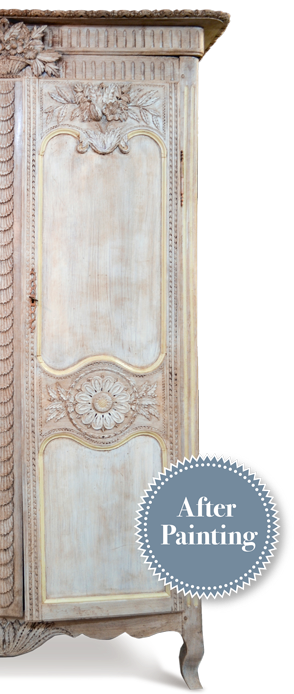 Learn as she shares tons of her coveted tips and simple but luxurious techniques that have been featured numerous times on the Home Shopping Network, the Houston Chronicle, Fox News, Great Day Houston KHOU, and so much more.


The Good (and BAD) News About The FREE Chalk Painting Foundations Deminar
The good news? Whether you're just a curious DIYer or desperately ready to make a change in your home, you will leave knowing:
• Exactly how to master the art of chalk finish painting
• How to conquer color without fear and
• Have the knowledge and confidence to tackle any project from a simple piece of furniture to your entire kitchen.
The bad news? Because this FREE workshop is so highly in-demand, seats fill up extremely quickly. So you must act fast to lock in your desired date.
Your Next Steps
Don't wait until "later" to take your first step in making a change in your home. Go ahead and secure your seat right now. Because as you know, life and work always get in the way and before you know it, 6 months have gone by while you remain frustrated with your home.
We can't wait to share all of our tips with you. But until then, here's what you can expect after you register for the workshop:
1. To start, you will receive an email confirming your spot.
2. We'll also send you directions to the shop
3. and a FREE downloadable workbook that you can bring with you to the class.
Ready to get started right away? Take a few minutes and snap pics of the pieces you want to transform around your home. Go ahead and share them with me in the comments below!
Ready to get started right away?
Take a few minutes and snap a few pics
To see the Instagram feed you need to add your own API Token to the Instagram Options page of our plugin.
Warning
: Invalid argument supplied for foreach() in
/home/customer/www/classes.farmhousebyamitha.com/public_html/wp-content/plugins/feed-them-social/feeds/instagram/class-fts-instagram-feed.php
on line
909